Next Meeting: Commission on Ethics Monthly Meeting - Thursday, December 14, 2023- 1:30 p.m. - Robert Weisman Governmental Center, 301 N. Olive Ave, West Palm Beach, FL 33401 - 6th floor BCC Chambers
Agenda and Attachments
Click here to watch the meeting live on Channel 20
Advisory Opinions
Training & Education
Databases
Documents
Publications
About Us
FAQs
View the most recent meeting and much more on the Meetings page.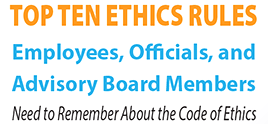 Training Information
Required for ALL County and Municipal Elected Officials, Employees and Advisory Board Members
Pursuant to Article XIII, sec. 2-446, all Palm Beach County and Municipal employees and officials are required to read the Palm Beach County Code of Ethics, receive training on the requirements of the Code of Ethics and sign an acknowledgement form. This Web page is designed to help you complete these tasks:
Training Video
* If you are having trouble streaming the video through the above link, please try the YouTube link below.
A Practical Guide to the Code of Ethics (2016 Publication) (flip book)
Ordinance
Acknowledgment - Please return original acknowledgment to your employer not the Commission on Ethics.
Advisory Board Members appointed by the Board of County Commissioners - Please see your Advisory Board Liaison
ALL OTHER ADVISORY BOARD MEMBERS PLEASE USE THE ACKNOWLEDGMENT FORM ABOVE